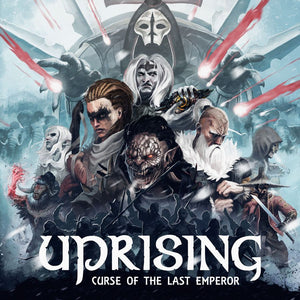 Uprising: Curse of the Last Emperor All-In Pledge

Only 0 remaining!
Regular price $299.95 Sale
 Uprising: Curse of the Last Emperoro is an entirely Kickstarter-exclusive project and will not be available in standard retail channels. We were able to get two copies, so grab it now, while you have the chance!
This All-In Pledge includes:
Uprising Core Box
Arch-Nemesis Expansion
Unbending Highlanders
Forgotten Guardians
Nebulous Wanderers
Fallen Invaders
The Last Herd
Shadow Striders
Renegade Legion
Wave Singers
All Unlocks and Stretch Goals
Scroll down to see components and stretch goals. 
Please note: this is a pre-order. Uprising is slated for a Q3 2021 delivery.
Description: Uprising: Curse of the Last Emperor is a strategically challenging and fully cooperative board game for 1 to 4 players set in a deeply immersive post-apocalyptic dark fantasy setting. As the known world is about to end, the players take over the role of a great hero to lead their faction through these dark times.
Uprising is a 4X cooperative game played against two asymmetric enemy factions controlled by the game itself: Chaos and the Empire. Explore the wasteland, expand your dominion, exploit the resources of the liberated territories, and exterminate the Legions and Hordes around you.
Every game tells a completely different story due to a modular board, asymmetric factions and a huge variety of different events. The game ends after four chapters. If you have not collected more victory points than Chaos and the Empire, the world will truly end.