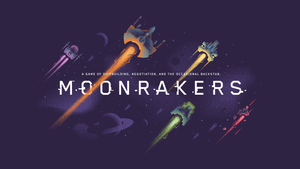 Moonrakers Deluxe Kickstarter-Exclusive Edition

Only 0 remaining!
Regular price $124.95 $109.95 Sale
Moonrakers Deluxe Kickstarter Edition includes:
Moonrakers base game

Kickstarter-exclusive box
Moonrakers Origins graphic novel
First Encounter Kickstarter-exclusive expansion
Two custom neoprene playmats
Note: this is a pre-order. Moonrakers is slated for a July 2020 delivery.
Description:  Moonrakers is a game of shipbuilding, temporary alliances, and shrewd negotiation set in a space-faring future. The players form a loose band of mercenaries, but while they are united in name, actual alliances are shaky as players are pitted against each other in the quest to become the new leader of the Moonrakers.
Moonrakers is a deck-building game in which players choose Contracts to attempt alone or with Allies in order to gain Prestige and Credits. After negotiating terms with Allies, players use their decks of Action cards to play Thrusters, Shields, Weapons, Reactors, and Crew to fulfill the requirements on each Contract. Each type of Action card has additional effects such as extra Actions, drawing additional cards, and protecting players from Hazards encountered while attempting Contracts.
Players create powerful decks and gain special abilities by upgrading their ships and hiring Crew Members. This helps them accomplish more difficult and rewarding contracts alone, letting them keep more Prestige and Credits for themselves.
Allies negotiate who will receive the Prestige, Credits, and risk of Hazard from Contracts, but if you don't make your offers enticing enough players may be tempted to betray you! The first player to 10 Prestige wins, but be careful as hazards encountered on Contracts reduce your Prestige!