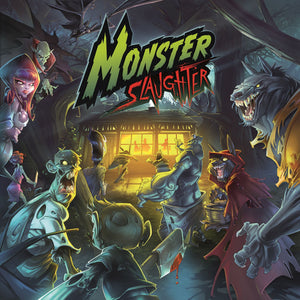 Monster Slaughter

Only 0 remaining!
Regular price $179.95 Sale
Monster Slaughter Kickstarter Pledge. 
Includes:
Core Game
Three Kickstarter Exclusive Monster Families
11 Kickstarter Exclusive Surprise Guests
Tool Shed Expansion
Five additional Kickstarter Exclusive Monsters
Additional Kickstarter Exclusive Scenarios
Enough sleeves for all the cards in the game
Description:
Flip the script on the horror films of the 80s with Monster Slaughter !
At the head of a family of monsters (werewolves, vampires, zombies, or golems), this time, you're the one who will have to hunt down and slay those insufferable teenagers who have taken refuge in a house in the middle of the forest.
The hardest part? Choosing the order in which you will eliminate them, and then... executing!