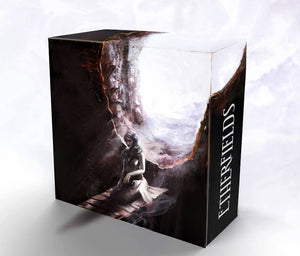 Etherfields Dreamwalker Pledge

Only 0 remaining!
Regular price $299.95 Sale
Etherfields Dreamwalker pledge includes: 
Etherfields Core Box
All unlocked Stretch Goals
Creatures of Etherfields miniatures expansion
Please note: this will be sent in two waves. Wave I is expected around September 2020 and Wave II several months after that.   
Description: Etherfields is a new major miniature Board Game by Awaken Realms. We called this totally different BG experience a dream crawler – you will dive into surreal and artistically crafted world and follow one of a kind co-op / solo campaign adventure for 1-4 players. Everything you do, will change the strange rhythm Etherfields dream world follows and wildest fantasy is possible here.
Gameplay created by Board Game veteran, Michał Oracz (Author of This War of Mine: TBG, Neuroshima Hex or The Edge: Dawnfall among many others), will test not only your logical skills, but also intuition, deduction and emotional intelligence. Develop your character from scratch by advance deck-building, travel through dream-world map and go deeper into chosen dream-locations.