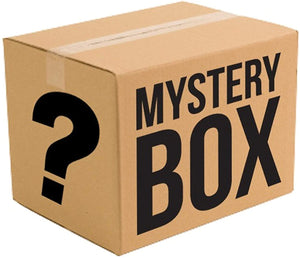 AMAZING Mystery Box

Only 0 remaining!
Regular price $1,000,000.00 Sale
Each mystery box is, well... a mystery! 
This AMAZING mystery box contains one of only five extremely rare Kickstarter pledges. 

The original pledge value was $1,350.
NOTE: This mystery box is not available for purchase but will be silent auctioned to the highest bidder on Tuesday, December 1. 
If you're interested in this mystery box, please contact us via email or Facebook messenger with your bid. 
Mystery Boxes are for those who want to be surprised and don't mind taking a risk.
This Mystery Box is 18" x 14" x 10" and weighs 22 lbs.   
Please note: all Mystery Box sales are final and coupon codes are not valid.